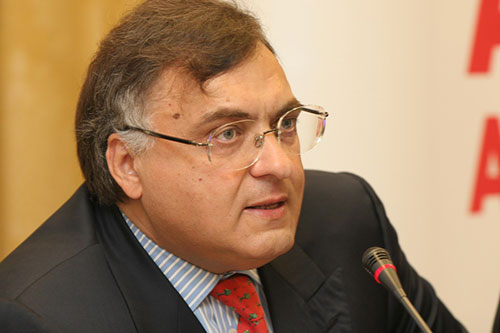 On the 24th of January, immediately after midnight, Dan Adamescu, 68 years old, died in a hospital in Bucharest, without his family close to him. Sentenced to prison on the 5th of June at the end of a trial based on false testimony, he was incarcerated in three consecutive penitentiaries, where his health continued to deteriorate. Hospitalized in the last months of his life – which he spent intubated and in a semi-induced coma – the 15 illnesses he was suffering from constantly weakened his body. The final blow was dealt to him by the pathogenous bacteria Golden Staphylococcus he had been contaminated with because of the inhuman conditions he suffered in prison.
"My father inspired me and so many others every day, continually. His confidence, tenacity, capacity of working and generosity, which he demonstrated for as long as I can remember, made all of us who knew him respect him deeply. He was strict, but he was fair with me and with his employees. He lived his life firmly convinced that if you make a resolution, overcome your limitations, make sacrifices, and get out of your comfort zone, you will succeed. What he built, without counting on anyone else but himself, his knowledge and his efforts, is worthy of admiration. He never received anything on a plate. On the contrary, he built a group of companies by his own efforts, a group which still waits to see its equal in Romania. But his independence and success also brought him many enemies.
He emigrated to Germany in 1979, where, although he started from scratch – by selling his stamp collection for 25,000 German Marks to start his company – in a few years he made a name for himself in commerce and real estate. Returning to the country after the Revolution, he became a pioneer in the real estate business. He built the first modern office building, which still exists on Carol Boulevard. He bought and reinvented a universal store on the brink of collapse – Unirea Shopping Center, now the most visited mall in Bucharest. He saved an insurance company from the tangles of nomenklatura – Astra Asigurari – and in less than ten years took it to first place amongst Romanian insurers, expanding outside Romania's borders. He saved the only anti-communist newspaper – "Romania libera" – from closing down because he wanted to help Romania to become an authentic democracy and to distance itself from its dark past. He constantly supported humanitarian and cultural causes, but never bragged about them.
He was an authentic businessman, who developed companies from zero with an extraordinary entrepreneurial spirit. He loved deeply what he was doing – to quote him "When I am doing business, I forget about the pain and physical ailments". My father was an ill man, even before being put in prison, but he never wanted to accept his medical condition. He ignored doctors' advice and he worked harder than any healthy person. And let me tell you a few things which, out of pride, he did not want to make public: In 1982 he was operated on for a brain tumour and by mistake a part of his pituitary gland was cut off. His heart worked at a maximum 40% – 60% of its capacity. He suffered from cardiac arrhythmia several times, the doctors bringing his heart back to the normal rhythm through electrical shocks. In reports on 22 August and 9 September, the German expert Dr. Rosak made clear that a patient with his state of health would never be eligible for detention in the Federal Republic of Germany. But not one judge took note of this expert medical opinion.
His entire universe crumbled when he was accused of criminal deeds he was not guilty of, being shocked by the bestiality with which truth was distorted to satisfy the hatred and ambition of certain politicians and magistrates. Although he proved his innocence before the courts, nobody wanted to listen to him. There were very few who analysed the accusations, most preferring to listen to the malicious voices. He could not get over the brutality of his arrest, over the grotesque media circus he was subjected to, over the hatred of the prosecutors who wanted him exposed as a "public danger" to "public shame", over the decisions of the judges who pronounced him guilty from day one and kept him locked up because he would not admit the charges brought against him.
He was locked up in indescribable conditions at the Preventive Arrest Center. He was held with 6-8 inmates in an underground cell of a few square meters, without lockers, without space for movement, and with a Greek-style toilet. Due to his atrophied muscles and his knee condition, on several occasions he fell in his own excrement. He was shut in for 23 hours each day – allowed to go out for just one hour into a space of 30 sqm called "outside space". In reality, this was an enclosure of approximately 30 sqm with grating instead of a ceiling and extremely dirty.  He was subsequently moved to Rahova Penitentiary, where he shared a cell with 6 inmates, but because of his aggravated health condition and the impossibility of movement he was permanently stuck in the cell. Moreover, for some inexplicable bureaucratic reason, he did not receive the medical treatment he desperately needed for 37 days, although his medicine was brought to him by my aunt who feared his life was in danger. The movement to Jilava Penitentiary meant another torment for my father and so from there he was finally brought unconscious to Floreasca ER Hospital. Only after 10 days of care were his vital functions able to be stabilised after a serious infection had spread throughout his entire body.
He refused to wish to live anymore, and at this moment the Romanian state started going after his only child. Based on the same fabricated documents, they hoped to make me "pay" on behalf of my father. I wish I could have told him not to worry about me, holding his hand on his last journey, but unfortunately I was kept away from him during the last year. I lack the words to describe my pain at the way Romania destroyed such a man. From his hospital bed, in the autumn of last year, he wrote a statement from which I quote: "I have lost faith in humanity. I have lost my interest for life. The future looks dark for me. My life has been destroyed. I will try to survive this torment I have been subject to and I hope I do not die in prison…"
He believed in justice up to the end. He was convinced that he would be acquitted and could not even fathom that under the rule of the law he could be sentenced without evidence. Sadly, he died having lost his faith in Romania and the will to live. He was abandoned by his beloved wife in the worst moments, thus proving that she was only a gold digger. The company he kept growing for over 15 years, Astra Asigurari, was pushed to bankruptcy by officials who then accused him of the consequences of their actions. Today, all his companies are close to being nationalised as a result of these injustices. And I am placed on the black list. It was too much even for the fighter Dan Adamescu!
This is the truth about my father. Many chose to judge him without knowing his situation and without knowing him at all. He was a dignified man, who did not like to stand out, preferring to mind his own business. He did not publicly defend himself against every accusation he received. He created thousands of jobs, and he trained professionals who I know are still grateful to him. He was a man for which only his intelligence and the volume of work gave the measure of his success. Nobody and nothing else!
I will fight until to the end to make known how much injustice was brought to him by an oppressive state, which confuses justice with narrow political interests and chose to sentence one of the few authentic business people.
May you rest in peace, father."
Alexander Adamescu
24 January 2017, 9:30 hours